Hi All
I'm working on an infographic to send out to schools about the Raspberry Pi and one element of it is a visualisation of the affordability of the Pi's computing power compared to the Apple II of 1977. I am however a filmmaker (interested in the creation of 'intelligent' cameras) with not much computer science knowledge and have got myself hopelessly out of my depth with the benchmarking calculations.
I've put this on my blog
http://www.bristolfilmacademy.com/bfa-b ... pples.html
, where I've had one response, but thought maybe someone here had already tried to do a similar thing and could help me...
The figure I've arrived at is 93 million times more affordable - but my methods *may* not have been rigorous enough to go to print with that figure. Here's how I arrived at the number (please don't laugh).
I found this benchmarking information,
http://www.roylongbottom.org.uk/whetsto ... nchorAcorn
which was the only way I could find a common currency between the Apple II and the processors of today: the MWIPS, or Millions of Whetstone Instructions per Second. The Apple II clocked 0.0011 MWIPS.
Unfortunately, there's no benchmarking for the Raspberry Pi, nor any ARM chips, so the best I could do was take the Core 2 Duo M speed - 1,557 MWIPS - as an estimate, based on the fact that I heard a bloke in the pub say that the Pi is equivalent to the computers of five years ago.
So, I'd calculated that the Raspberry Pi is something like 1.415 million times faster than the Apple II, but this is only half the story.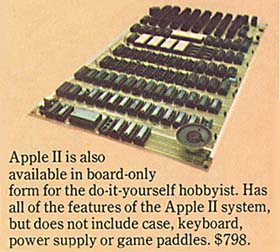 When the Apple II was launched, it was also available as a 'board only' option, which seems like the best option for comparison with the Raspberry Pi. As you can see, this cost $798.
My next step was to adjust for inflation using this calculator,
http://www.westegg.com/inflation/
and that came out at $2,981.
The Pi costs $45, so is 66 times more affordable.
So, I make Raspberry Pi's computing power roughly 66 * 1.415m = 93 million times more affordable than that of the Apple II.
(As the comment on my blog pointed out, it's more complicated than that. The ARM is slower but overall the performance is faster because of the GPU, but how would you factor that in).
Any help greatly appreciated.
Matt