Announcement
Fatdog Arm Beta 4
Support site:
http://murga-linux.com/puppy/viewtopic.php?t=92548
I've put together an easy to install version of Fatdog Arm Beta 4.
This is targeted to Raspberry pi2 users who want a general purpose
operating system that is reasonably fast and small.
EDIT: updated to july25 2016 version
Installation is easy.
1) Download
fatdogarm-07-25-2016.zip
231mb
# MD5 sum
896B966090E235E563C69DEB3774E781
File: fatdogarm-07-25-2016.zip
Size: 231.68 MB
2) You can install using Windows or a Linux computer
Format your micro SD card as fat32. (A minimum of 2 gigabytes please!!)
Open up fatdogarm-05-09-2016.zip. You will see the files and one folder.
Drag the contents to a freshly formatted micro SD card.
3) Take out the card from its adaptor and insert in your raspberry pi2
computer. Plug in the power cable. If you wish, you can plug in your
ethernet cable and a wireless adapter.
4) While booting ---> the OS asks for a save file , just press the <ENTER> key.
The operating system will automatically find the fatdog save file.
Note that user's documents and config files are in that save file.
EDIT: Step 4 is now avoided because there is now no savefile included.
You boot directly to desktop now!
5) You will soon see the desktop with a giant clock on it.
User: root or spot
Password : woofwoof
Support site:
http://murga-linux.com/puppy/viewtopic.php?t=92548
Check if your ethernet device has been recognized.
A tray app will show ethO is idle if it is connected , error reported if not recognized.
Tip: Type 'ifconfig' in terminal to check if a network address has been assigned.
Note that samba is now included. It is easy to turn on .
Here are the instructions.
http://www.murga-linux.com/puppy/viewtopic.php?t=106343
Dropbear is used as a SSH replacement. The control panel is used to turn it on.
Xming
needs Dropbear
running to serve X to a Windows computer.
Works great! And very simple to set up.
___________________________________________________________
A wireless adapter requires some work. Here is how I made the connection...
I first checked that the wireless drive had loaded properly...
I checked the boot messages to see if the driver had loaded.
I saw...
Code: Select all
usbcore: registered new interface driver carl9170
carl9170 is the name of my driver, so it has loaded. Good!
Next I connected my adapter to a wifi network
Control panel > network > Network Setup
SSID (the router's network name) and wireless password for my Cisco router is entered here (see image)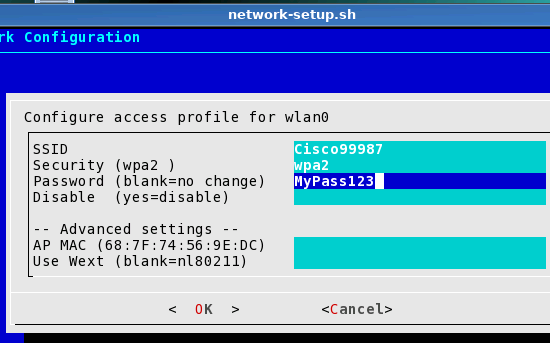 Activate wlan0 now with Network Setup
_____________________________________________
To check the activation....
Type 'ifconfig' in terminal and wlan0 will have a network address assigned to it now.
It is different than ethernet address.
I could find a windows server with fatdog_connect.sh
Network > Fatdog connect
Fill in the address of server and the Share name.
Click 'Connect'
__________________________________________