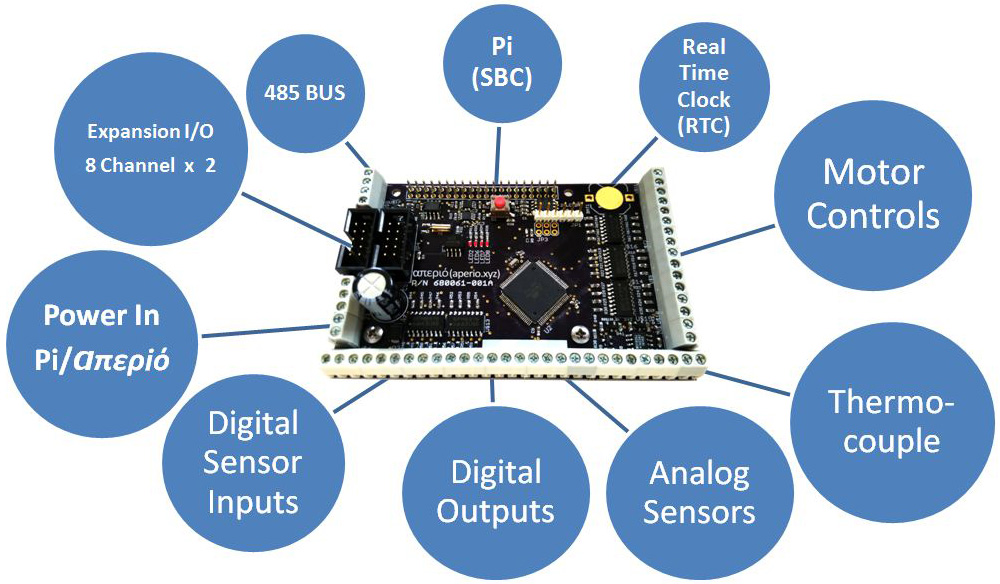 The RaspberryPi is a low cost Single Board Computer (SBC) with available connections for General Purpose Input Output (GPIO) signals to sensors, relays, etc. But the RaspberryPi is limited to 3.3vdc signals, which is a serious limitation for real world connectivity to various sensors, actuators, relays and drivers. Furthermore, the RaspberryPi has no Analog capability and lacks the "real time" operation of an embedded, RISC-based microcontroller.
Aperio bridges the gap between Human & Machine Interface. RaspberryPi handles the Human side and the graphical user interface while Aperio connects us to the real world via sensing and control,
While Aperio was designed to work in conjunction with Raspberry Pi for a complete Machine Controller and Human Machine Interface (HMI), it can also be interfaced by other HMI Systems such as PCs and PLCs via the serial RS485 or i2c communication bus. Aperio is fully compliant with the Raspberry Pi, Hardware Attached on Top (HAT) specification.
απερiό or aperio (pronounced: a-pe-ri-o) – Derived from the root of the Greek word απεριόριστος (aperióristos) which means Limitless.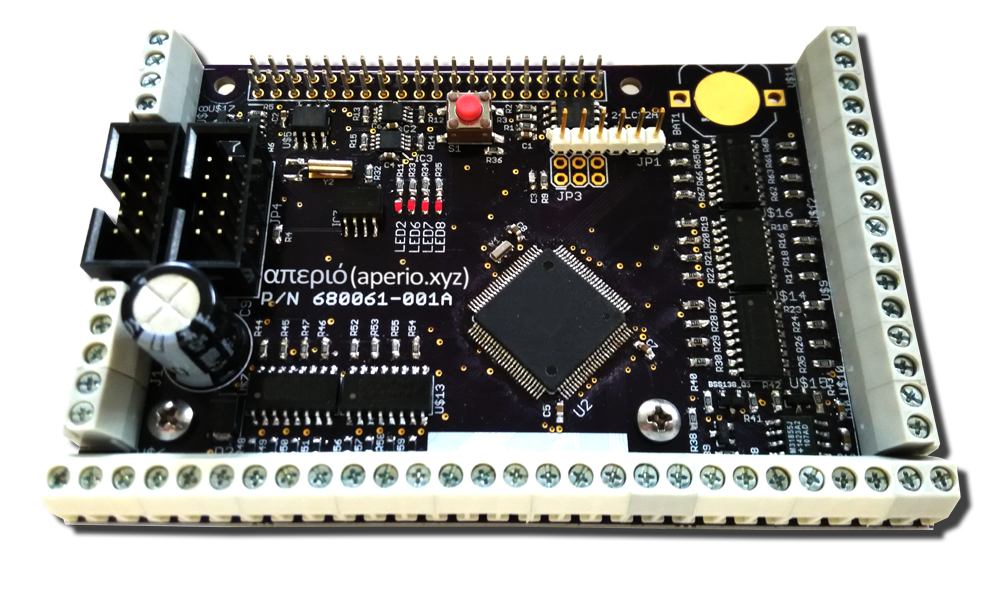 Features and Specifications:
8-bit AVR RISC-based microcontroller
Arduino Compatible (open source software libraries)
8 optoisolated digital inputs (5 – 24vdc)
8 digital outputs (5vdc)
8 analog inputs (0-5vdc)
8 PWMs
Coordinated 4 axis motion control (Stepper/Servo)
Provides power to Raspberry Pi
Real Time Clock (RTC)
1 Thermocouple Input (type J)
16 GPIO expansion (optoisolated via Aperio expansion module)
RS485 bus interface to Rasberry Pi
Additional απερiό board expansion over RS485 bus
40 pin connector to Raspberry Pi per Hardware Attached on Top (HAT) Specification
Battery backup with power loss detection
Dimensions: 100 x 65mm
Conformally Coated for use in harsh environments
Aperio comes with a wealth of Digital and Analog Inputs and Outputs compatible with hundreds of sensing and control devices such as:
Relay Expansion
I/O Expansion
Infrared, Inductive, Proximity
Encoders (4 per Aperio)
Distance Sensing (Sonar, Lidar, Dopler, Rangefinding, etc.)
Stepper/Servo Motor Driver
GPS, Tilt/Yaw, Acceleration
Humidity/Temperature sensing
Push buttons
Limit Switches
Gas Sensor (O², CO², VOCs or Gas Specific)
Kickstarter campaign coming soon...
http://Aperio.xyz