Hi,
I'd like to let you know about a new USB chip-solution, which allows you to easily connect various sensors, buttons, LEDs, LCDs, motors, etc. to the RasPi via its USB port.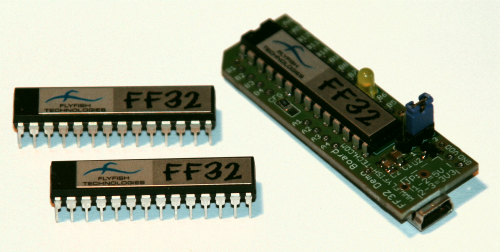 The chip's label is
FF32
and its features summary contains:
* 18 Digital Outputs
* 18 Digital Inputs
* 6 PWM Outputs
* 12 Analog Inputs
* 4 SPI Master Buses
* 9 I2C Master Buses / 9 TWI Master Buses
* 18 1-Wire Master Buses / 18 MicroLAN Master Buses
* 3.3V or 5V Power Supply
* Hot-Pluggable
* Core current consumption at full operating load <10mA
* High-current Output Pins, rated for 25mA
* Maximum 185mA sourced and sunk by all Output Pins
* Operating temperature range -40 degC to +85 degC
* USB 2.0 compliant
* Natively supported by various Operating Systems (Linux, Mac OS, Windows, BSD, etc.). No additional USB driver needed.
* Supported up to 127 chips attached to the host
* Programmable circuit's Vendor and Product ID strings, including serial number
5 demo boards (presented on the picture above) are offered free of charge to members of this forum.
Due to a sunrise phase of this product (only C source code is available at the moment, application notes presenting various use cases are under development), it is expected that more experienced users will apply to this offer.
Send me a private a message if you'd like to receive the demo board. Please be aware that a selection criteria is based on your previous messages content posted in this forum (they should indicate that you have some mileage).
The boards will be sent out by the end of next week, user names of recipients will be listed here.
For further information (datasheet, complete C sources presenting all features) you're kindly invited to visit the page:
http://www.flyfish-tech.com/FF32/
.
Best wishes, Ivan Zilic.