Hello, I need help. I have this 16x2 LCD Display:
https://amzn.to/2vNZPhs
which is a ready plate with MCP23017 chip. I want connect it to RPi, i know i can put it into RPi but it will use me all pins of RPi and i don't want to do that because i'm making a project about home security and i want to connect other devices like keypad, buzzer and PIR Sensor... I have used this tutorial :
https://bit.ly/2LAL5NN
to connect the VCC, Ground, SCL, SDA pins out to raspberry pi (not to arduino like tutorial). Do i need to connect another pin to GPIO ? The backlight of the display is working but when i write a python script not working and it didn't shows the output text and is only displaying blocks like in photo: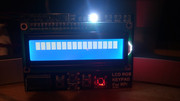 I tried also a lot libraries but i didn't find anything applicable... Any idea why this is happening or is there any step I am missing ?