More than a year ago I got great help from 6by9 to capture I2C traffic from Pi to camera board.
That allowed later to make raspiraw do really high framerate recordings up to 750fps/1007fps for v1/v2 camera.
The schematics pointers In this posting only show PP39+PP40 (the intresting ones for Pi camera) for Pi 2B:
https://www.raspberrypi.org/forums/view ... 0#p1236942
After I soldered tin-solder balls onto PP39 and PP40 on Pi 2B capturing worked: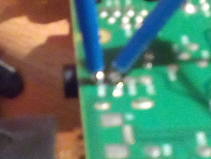 Now if you don't have a Pi 2B, or don't have a logic analyzer, you can still inspect Pi camera registers!
And the advantage of this method is that you get all register values (you ask for), whereas capturing I2C traffic only gets those sent/updated.
In order to inspect v2 camera registers I used my i2cread tool, attached to this posting:
https://www.raspberrypi.org/forums/view ... 4#p1420790
All "intreresting" registers for v2 camera seem to be in 0x0000-0x3ff range, per the imx219 data sheet:
https://github.com/rellimmot/Sony-IMX21 ... Pi-V2-CMOS
This is how I did the capture, raspivid needs to run in background in order for the capturing to succeed:
The registers are not identical:
The first diff is for register "0018 [7:0] FRM_CNT[7:0]" (Frame Count).
The other diff is for registers 0x014[23]:
The first two registers are MODEL_ID: