In thread "v2 camera raspivid now captures up to 200fps ..."
https://www.raspberrypi.org/forums/view ... 3&t=206047
I did verify that indeed v2 camera can capture up to 200fps with raspivid.
I used tool ptsanalyze for that:
https://github.com/Hermann-SW/userland/ ... ptsanalyze
The tool does frame delta distribution analysis, determines framerate based on most often found frame delta and reports number of frame skips as well as lists those.
What the tool did not do was to determine the avarage framerate of the recorded video (from file generated by "--save-pts" and "-o" options).
The 1st line of the generated file is a comment, and the 1st timestamp in 2nd line seems to be always 0.000.
New tool "afps" does it safely and determines average framerate by dividing difference of last and first timestamp by lines of file minus 2:
I did a quick loop and recorded with each framerate for 10 seconds.
For all framerates from 60fps to 139 fps you get slightly more than you requested, 0.16 at minimum.
Next I did similar loop for all framerates in range 140fps up to 200fps.
The first framerate where you get slightly less than requested is 150fps (you get 149.78fps).
Here is chart generated from above data: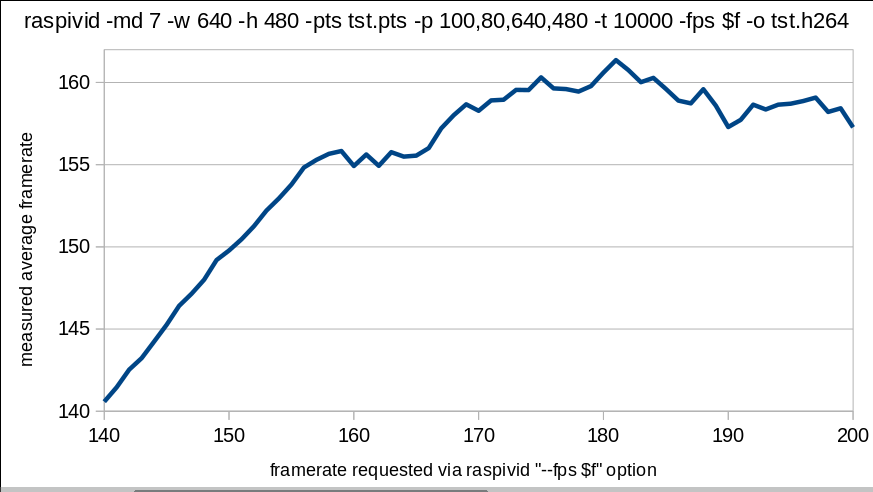 The maximal average framerate is 161.36fps for requested framerate 181fps.
The measurements were done on a Pi 3B+ with 15cm flat ribbon cable to connect v2 camera.
I did repeated evaluations around this framerate and they reported stable results, this time with maximum for 180fps requested:
In the past most times I used framerate 180fps with v2 camera raspivid, seems I was lucky.
For high framerate raspiraw capturing (up to 1007fps with v2 camera) I typically select regions of the recorded frames without any frame skips (with raw2ogg2anim tool), which means the captured average framerate for those regions is slightly above the requested.
P.S:
I did one 10s capture with 180fps requested, and did ptsanalyze the data.
191 frameskips (10%), with 1587 frames captured mostly at 180fps, 161.37fps on average:
P.P.S:
I did several runs with 150fps, all resulting in >=149.57fps average framerate.
For the last few runs I did run pts analyze, 1473 frames were recorded at 150fps requested framerate, 9 frameskips.
I had to go down to 140fps requested framerate to get runs with 0 frameskips.