I always had a Raspberry camera on top of my Motor Test Station in order to take 90fps (640x480) slowmo videos of my high speed robots in MTS. Since recently I did take a 2nd video from an Android phone camera from top as well, for real time video, and more importantly, for audio!
Latest addition to this setup is a third Raspberry NoIR camera, looking at the sceen horizontally through a peephole (click image(s) for details):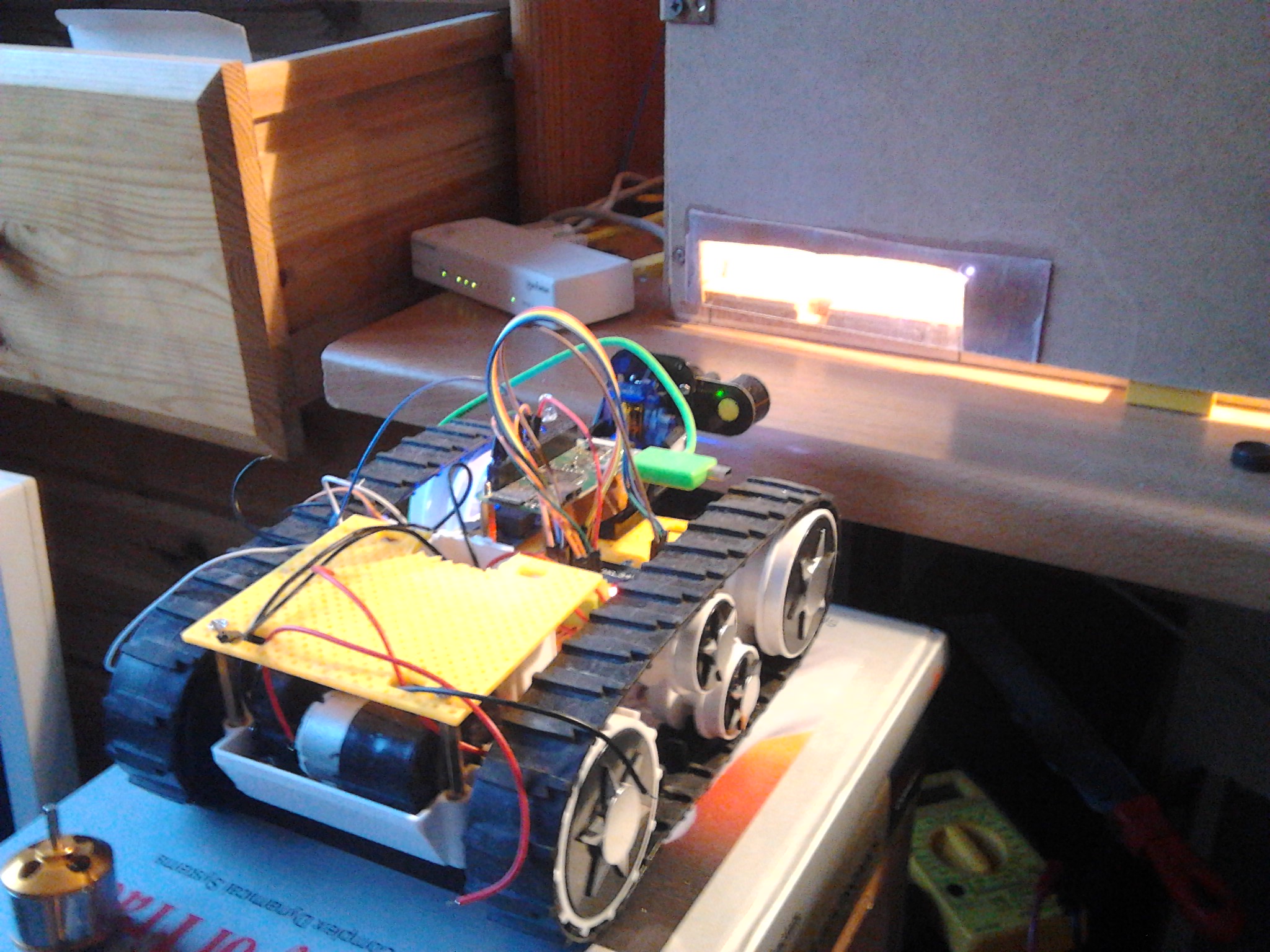 The last run I did showed "only" 14m/s or 50.4km/h speed (record sofar is 68km/h, with only 25% of ESC control speed for outrunner motors). Here are the three videos:
https://www.youtube.com/watch?v=BxyT9ul ... e=youtu.be
(69) Android phone camera
https://www.youtube.com/watch?v=gJfhBHa ... e=youtu.be
(69a) Raspberry camera
https://www.youtube.com/watch?v=3Ta642G ... e=youtu.be
(69b) Raspberry NoIR camera
So lets start with a single frame from a 90fps slowmo video with default shutter settings of raspivid, which I assume is 11.1ms because consecutive frame pictures start where previous frame ended, and stop where next frame starts. This video was also taken at a >50km/h speed:
As you can see this frame is really smeared. I always accepted that, because it did no hurt in counting the avarage number of frames per round of the robot (with the 1.28m wheel radius that easily allows to compute robot speed).
Today I looked up raspivid's "--shutter" option, and I really like it!
So this is frame from (69a) video, taken with "--shutter 1000":
A (nearly) perfect frame, nearly no smearing, and you can even read the value of digital voltmeter on the spinning robot! (click on the image for that to see in original 640x480 size) Only drawback is that the frame looks a bit dark, and I know that the reason is that in 1ms not enough light can be accumulated. Again, for measuring average frame rate that is perfect.
Finally here is a "--shutter 1000" frame of the Raspberry NoIR camera looking through peephole, also at robot speed of 18m/s:
No darkness! The reason is simple, and can be seen by the 3W Infrared LED mirroring in safety glass. The wheel looks a bit strange, but hey, it passes with 14m/s and 1ms is even a long time for that speed
(robot moves 1.4cm in 1ms)
Summay:
I was and and will be a heavy "raspivid" user, and learned today on "--shutter" and am really impressed!
Hermann.
P.S:
More details on the latest Motor Test Station changes and runs in this posting:
https://forum.arduino.cc/index.php?topi ... msg3338067