Hi all!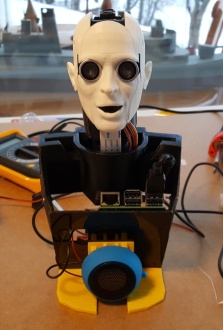 Some of you may remember my original Piro robot from 2015 (
viewtopic.php?f=37&t=118716
). Sadly I had to abandon that robot when moving to a new apartment. However, since summer of 2016 I have been working on a new Raspberry Pi 3 -based robot, called (unsurprisingly) Piro2. I am using a 3D printer to build parts for my new robot, so it should look somewhat nicer. I am also focusing on speech input and output and artificial intelligence routines. I recently took a video of me testing the speech understanding around the verb "look", so I decided to post a topic here as well.
https://youtu.be/d2r9fxl0mwY
All software is running locally on the Raspberry Pi, so in that sense it really is a pure Raspberry Pi robot. You can get more information about both Piro and Piro2 from my web pages at
http://piro.patrickaalto.com
(be sure to check the blog pages). The robot is still very much a work in progress (it has no arms yet, etc), just in case you are wondering if the image above is of the finished robot!
Thanks for your interest!
Patrick