hi guys, im new to this microcontroler thing. but sure im familiar with C code programming. its the main reason why i tried this code from :
http://www.uugear.com/portfolio/dht11-h ... or-module/
for my DHT11 sensor.
but when i did some googling search, in case using c on Rpi3. we must install the library of C on Rpi3 CMIIW. so i did install the library with following this page :
https://projects.drogon.net/raspberry-p ... d-install/
and succes all the step.
but then when i first try the code from first page up there, something wrong happen. like this in my terminal :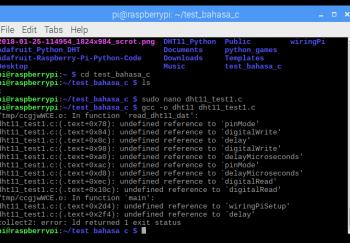 can anyone tell me what did just something happen? i did import the library of C on my Pi3 so i think im fine with all the library. thank you for your time guys