Hi,
I am working on an application that uses SPI to communicate with a 12 bit ADC - the MCP3208 - and I'm having problems translating the SPI data into usable values. I'm using the pigpio library's spiXfer function.
Something just isn't clicking for me. I understand how bit shifting works. I understand how the SGL/DIFF, D2, D1, and D0 bits are set and sent to the ADC. But after that, I get lost when trying to follow how the ADC data out is put into the 3 different one-byte buffers, and how to prepare the captured data to turn it into a usable value in the 12-bit range.
For example, I have my scope hooked up to CLK and MOSI, and I captured the following MOSI transaction: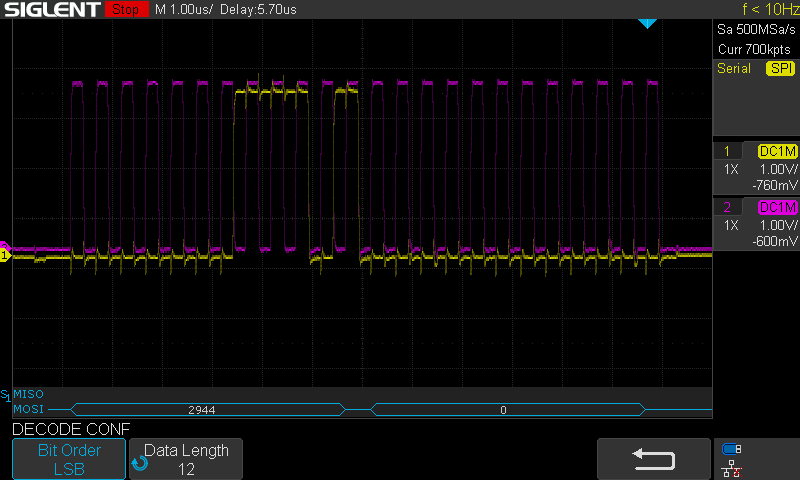 I printed the values that spiXfer put into the rxBuf as well:
I don't think my scope is setup to decode properly because I am providing the ADC a 1.65V signal and Vref is 3.3V, so the ADC output value should be about 2047. The scope is decoding it as 2944 as shown in the screenshot.
I am a bit frustrated right now because I have 3 different measurements of the data and none of them agree with each other. (scope, C code, and multimeter). The only thing I know is that I am providing the ADC input channel with a 1.65V signal. The scope decode is showing me 2944/4095 which suggests a voltage of 2.37V, and the rxBuf in my code holds some arbitrary values.
I am making the assumption that the values in the rxBuf somehow translate into the value ~2047, but I can't figure out how. The only idea I've had is that buf[1] and buf[2] are two 8-bit numbers that are supposed to be combined/concatenated, like:
... 00000001 and 11110111 being concatenated for a final value of 111110111... this doesn't make sense because the decimal value of this number is 503.
<BREAK>
Looking at the 10-bit sample code I"ve found for spiXfer, there are some bitwise operations being done to the values in the rxBuf array:
Code: Select all
spiXfer(h, buf, buf, 3);
int v = ((buf[1] & 3) << 8) | buf[2];

I don't understand why buf[1] is AND'd with 3, and then shifted left 8, and then OR'd with buf[2]. I'm hoping that if I can understand why these specific steps are done for a 10-bit value, then I can understand how to adjust it for a 12-bit value.
I've found examples for 12-bit ADCs where buf[1] gets AND'd with 15 instead of 3. I've tried this, however, and this gives me an output value of 503 instead of 2047.
I would sincerely appreciate someone helping me out and pointing out where I'm going wrong, and even explaining the reasoning behind the bitwise operations!