I set up my Pi 4 using this info.
https://berryterminal.com/doku.php/berryboot
I added a couple items to the taskbar including the Weather Plugin. However, the plugin shows [N/A]. Clicking on it gives the error this: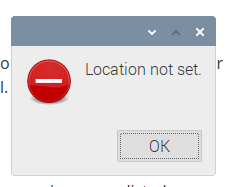 Clicking on "Paspberry Pi Configuration" in the menu gives this:
Any idea where and how to get access to the Pi configuration preferably from a configuration app?