Hello,
I have just upgraded my pi 2 b to a 3. The ldr system with a capacitor (like this one)...
https://pimylifeup.com/raspberry-pi-light-sensor/
)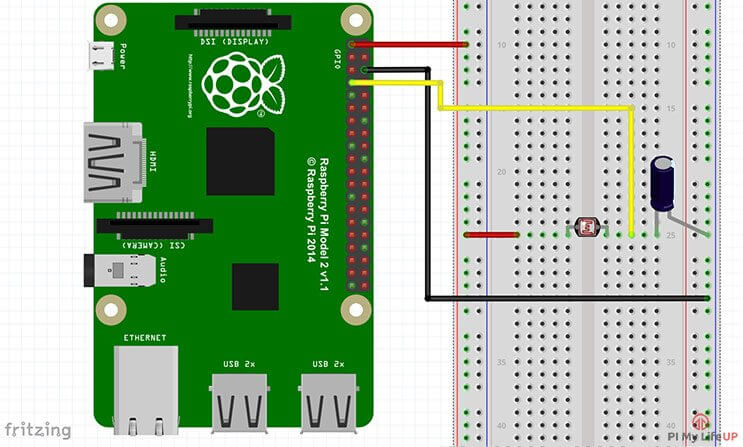 ... worked flawlessly on the b+, but on the new 3 it only gives a result 1 out of 2-6 times. So I get a result, for instance 55, then one to 5 times I get 1, then I get a result again, and so on. It looks like a pattern but I can't figure out what causes it.
For example: 55,1,1,56,1,1,1,43,1,1,1,47...
It seems somehow the capacitor is being drained way too fast during the false readouts, as my multimeter shows it raises to 3.3 volts and then drops again every cycle.
I have tried everything I can think of,
-different gpio port
-different capacitor
-checked the ldr, works fine
-Longer sleeps between measurements
-Longer capacitor charge time
this is the test code I use.:
Code: Select all
#!/usr/bin/python

import RPi.GPIO as GPIO
import time
GPIO.setmode(GPIO.BCM)

def rc_time (pin_to_circuit):
	cap=10000000
	count = 0  
	GPIO.setup(pin_to_circuit, GPIO.OUT)
	GPIO.output(pin_to_circuit, GPIO.HIGH)
	time.sleep(1)
	GPIO.setup(pin_to_circuit, GPIO.IN)
	state=GPIO.input(pin_to_circuit)
	count=0
	while (state == GPIO.HIGH) and (count < cap)
		count += 1
		print count
		time.sleep(.02)
		state=GPIO.input(pin_to_circuit)
	return count
try:
	while 1:
		x= rc_time(17)
		print str(x)
		time.sleep(1)

Is there a solution to this problem?
Thanks
Fj