Hi all,
I'm basically just wondering what i am doing wrong. I have a raspi (512MB B) set up with two external hard drives which are being shared via SAMBA. I have consulted many guides and set it up according to each of them but no matter what config i set, i cannot write to the drive from any source. Would someone be able to point out what i am doing incorrectly?
I have a feeling its something to do with the permissions on the drives themselves, but whenever i right click and set them it always denies me access and i have no idea how to change it..
I have screenshotted the end of my /etc/samba/smb.conf :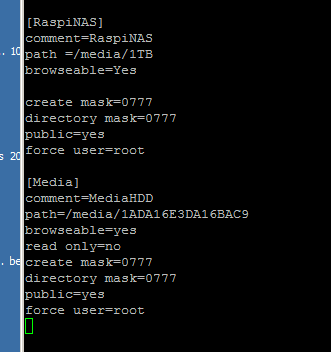 I have also tried to use the writeable=yes parameter and this doesnt work either. Plus, i am aware of the dangers of forcing root user.