A few months ago I released a
semi-automated generator
for Debian images that would utilise the Pi 3 and 4's power to the max by using ARM64/ARMv8 instead of ARM32/ARMv7.
A few days ago I was messing around with the script, and then thought "What if I get Ubuntu running instead?"
So I modified the script, got rid of the RPF-based kernel and got in the linux-raspi2 kernel which makes Ubuntu on the Pi truly Ubuntu, adapted everything to Ubuntu, then built an image. 30 minutes later, I was running Ubuntu on my Raspberry Pi installing the Ubuntu desktop environmnent. The GNOME one. And yes, the GNOME desktop worked, in fact I'm typing from my Pi 4 running GNOME now and it's running smooth as (I did need the V3D driver though for it to work).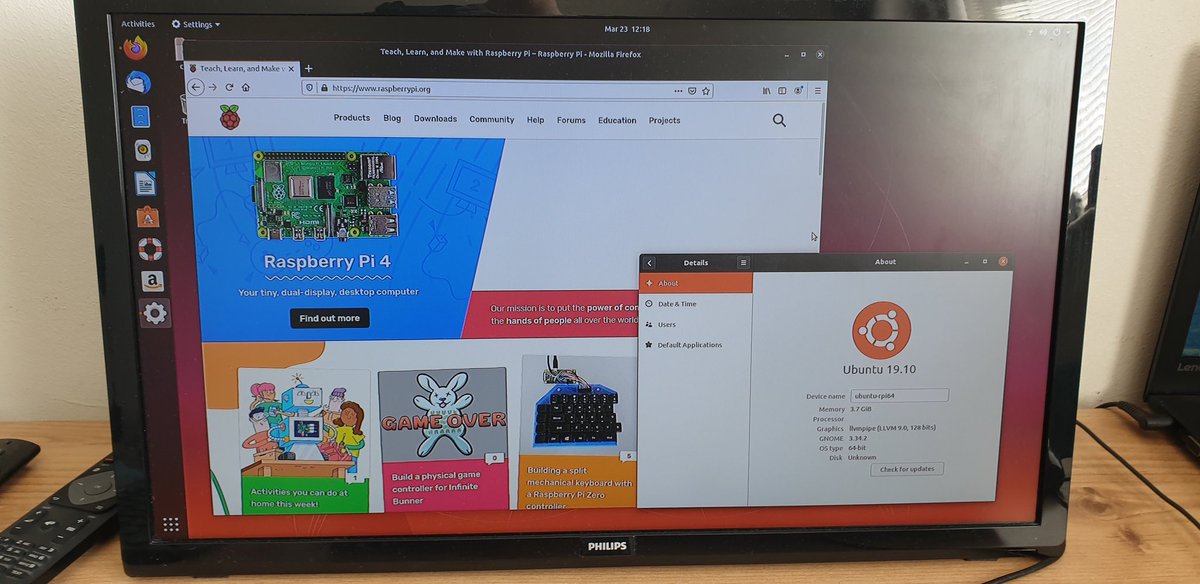 This isn't like the Ubuntu Pi Flavour Maker images that have a ton of Raspbian software on which ruin the authentic experience of Ubuntu. This isn't far from stock Ubuntu 19.10. It uses the Ubuntu linux-raspi2 kernel, makes strong use of the Pi's hardware, and is snappy and a beautiful experience for any Ubuntu lover or any user who wants a great desktop experience on their Pi not far off from a desktop PC.
You can read about how to work the script on
its GitHub page
. As I said, it's semi-automated, and does require some user interaction. It has three stages: stage1, where the basics of the image are set up; stage2, where most of the system is set up, including the kernel, DE, basic tools of Ubuntu, etc; and stage3, where the image is unmounted from the host system and ready to flash.
I will be releasing some prebuilt images soon including ones for different DEs. Unlike Debian, these images and generator are cross-compatible; they will work on both the Pi 3 and 4 without any modifications.
You can find the repo
here
. Notify me of any bugs, as squashing them is important to this project's future.