Pi Cart: RetroPie in a NES Cartridge
RetroPie builds take up approximately 40% of my daily project searching. Whether it's across social media, within the depths of YouTube, littering my inbox, or shared across office messaging, I see RetroPie everywhere.
I can look across my desk right this moment and spot two different USB controllers and two RetroPie-imaged SD cards from where I sit. True story.
Because of this, my attention tends to be drawn away from the inner workings of a gaming build and more toward the aesthetics. After all, if I've managed to set up RetroPie, anyone can do it.
When it comes to RetroPie builds, it tends to be the physical casing that really catches my attention. So many makers go the extra mile to build stunning gaming units that really please the eye.
Taking that into consideration, can you really be surprised that I'm writing about the Pi Cart? I mean, c'mon: it's awesome-looking!
I put a Raspberry Pi Zero (and 2,400 vintage games) into an NES cartridge and it's awesome. Powered by RetroPie. I also wrote a step-by-step guide on howchoo and a list of all the materials you'll need to build your own: https://howchoo.com/g/mti0oge5nzk/pi-cart-a-raspberry-pi-retro-gaming-rig-in-an-nes-cartridge
Pi Cart originator Zach offers up a complete how-to for the project, giving all budding gamers and tinkerers the instructions they need to fit a RetroPie-enabled Raspberry Pi Zero into an old NES cartridge.
Using a Raspberry Pi Zero, a four-port USB mini hub (to allow for the use of more than one USB controller), an old NES cartridge, and all the usual gubbins, it's fairly easy to create your own Pi Cart at minimal cost.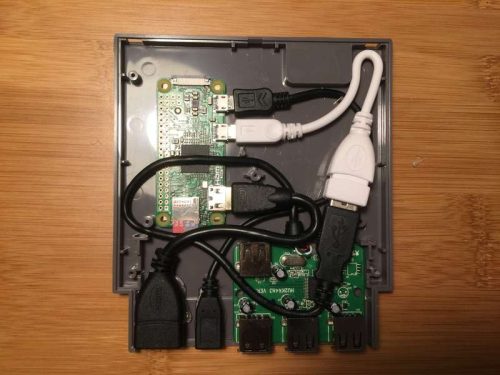 There are many online guides and videos which give you all the information you need to install RetroPie on the Raspberry Pi, so if you've never tried it before and feel a little bit out of your depth, I can assure you that you'll be fine.
Then all you need is a glue gun (this is possibly the most expensive component of the build!) and an hour or so to go from Zero to retro-gaming Hero!