How to Pi: Halloween Edition 2016
Happy Halloween, one and all. Whether you've planned a night of trick-or-treating, watching scary movies, or hiding from costumed children with the lights off, our How to Pi guide should get you ready for the evening's festivities. Enjoy!
Costumes
This is definitely a Pi Towers favourite. The Disco Ball costume by Wolfie uses a drone battery and Raspberry Pi to create, well, a child-sized human disco ball. The video links on the project page seem to be down; however, all the ingredients needed for the project are listed at Thingiverse, and a walkthrough of the wiring can be seen here. Below, you'll see the full effect of the costume, and I'm sure we can all agree that we need one here in the office.
Some aerial shots of Serena's halloween costume we made. It contains 288 full color LEDs, a dual battery system for power, and a Raspberry Pi B2 running the sequence that was created in xLights.
If you feel 'too cool' to fit inside a giant disco ball, how about fitting inside a computer… sort of? The Jacket houses a Raspberry Pi with a monitor in the sleeve because, well, why not?
lsquo;The Jacket' 2.0 My Cyberpunk inspired jacket was completed just in time for a Halloween party last night. This year's upgrades added to the EL tape and 5″ LCD, with spikes, a pi zero and an action cam (look for the missing chest spike).
Dealing with Trick-or-treaters
Trick or Trivia, the trivia-based Halloween candy dispenser from YouTube maker TheMakersWorkbench, dispenses candy based on correct answers to spooky themed questions. For example, Casper is a friendly what? Select 'Ghost' on the touchscreen and receive three pieces of candy. Select an incorrect answer and receive only one.
It's one of the best ways to give out candy to trick-or-treaters, without having to answer the door or put in any effort whatsoever.
This video is a companion video to a project series I am posting on Element14.com. The video demonstrates the candy dispensing system for the Trick or Trivia candy dispenser project. You can find the post that this video accompanies at the following link: http://bit.ly/TrickorTrivia If you like this video, please consider becoming out patron on Patreon.
Or just stop them knocking in the first place with this…
A Raspberry Pi running Ubuntu Mate connected to an old laptop screen. I have a motion sensor hidden in the letterbox. When you approach the door it detects you. Next the pi sends a signal to a Wi Fi enabled WeMo switch to turn on the screen.
Scary pranks
When it comes to using a Raspberry Pi to prank people, the team at Circuit-Help have definitely come up with the goods. By using a setup similar to the magic mirror project, they fitted an ultrasonic sensor to display a zombie video within the mirror whenever an unsuspecting soul approaches. Next year's The Walking Dead-themed Halloween party is sorted!
This Raspberry Pi Halloween Mirror is perfect for both parties and pranks! http://www.circuit-help.com.ph/haunted-halloween-mirror/
If the zombie mirror isn't enough, how about some animated portraits for your wall? Here's Pi Borg's Moving Eye Halloween portrait. Full instructions here.
Check out our quick Halloween Project, make your own Raspberry Pi powered spooky portrait! http://www.instructables.com/id/Halloween-painting-with-moving-eyes/
Pumpkins
We've seen a flurry of Raspberry Pi pumpkins this year. From light shows to motion-activated noise makers, it's the year of the pimped-up pumpkin. Here's Oliver with his entry into the automated pumpkin patch, offering up a motion-activated pumpkin jam-packed with LEDs.
Using a Raspberry Pi with a PIR motion sensor and a bunch of NeoPixels to make a scary Halloween Pumpkin
Or get super-fancy and use a couple of Pimoroni Unicorn HATs to create animated pumpkin eyes. Instructions here.
Inspired by the many Halloween electronics projects we saw last year, we tried our own this year. Source code is on github https://github.com/mirkin/pi-word-clock
Ignore the world and get coding
If you're one of the many who would rather ignore Halloween, close the curtains, and pretend not to be home, here are some fun, spooky projects to work on this evening. Yes, they're still Halloween-themed… but c'mon, they'll be fun regardless!
Halloween Music Light Project – Follow the tutorial at Linux.com to create this awesome and effective musical light show. You can replace the tune for a less Halloweeny experience.
Uploaded by Swapnil Bhartiya on 2016-10-12.
Spooky Spot the Difference – Let the Raspberry Pi Foundation team guide you through this fun prank, and use the skills you learn to replace the images for other events and holidays.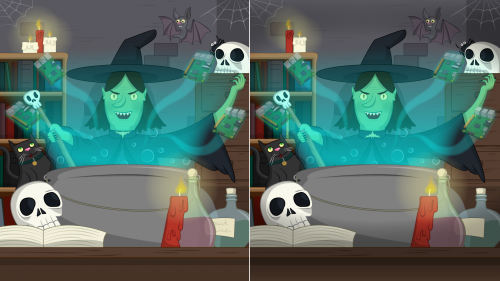 Whatever you get up to with a Raspberry Pi this Halloween, make sure to tag us across social media on Facebook, Twitter, Instagram, G+, and Vine. You can also check out our Spooky Pi board on Pinterest.