The good folks at Make: have been working with open-source home automation software OpenHAB to make a touch-screen device to interact with your house.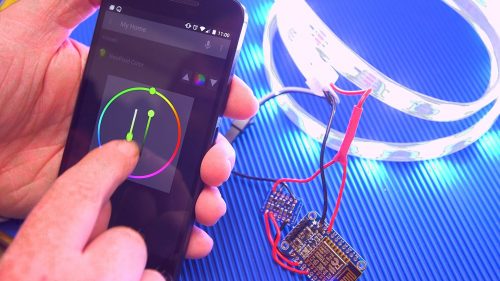 OpenHAB allows you to control objects in your house with voice commands; to monitor sensor networks; to set up rules for your devices via email or IFTTT, and a whole lot more. The device this video shows you how to build can interact with up to 150 different smart home products, and provide an interface for control and task scheduling.
For this project, you'll be building your own array of neopixels (which are great for kitchen counter lighting and for adding some mood colour to lighting schemes, if you're looking for an excuse to get started) rather than interfacing with a pre-built device, so you can get right into the guts of what's going on here. Other devices are easy to add once you've got the base model built. Here's Jordan Bunker to get you started.
Using the open source software OpenHAB, we'll be building a Raspberry Pi touchscreen command center that can interface with over 150 different "smart home" products, and provide an interface for control and task scheduling. Read more about this project: http://makezine.com/projects/building-a-home-automation-system-with-openhab-to-control-leds-wirelessly/ Arrow Electronics: http://www.arrow.com Music: http://audiojungle.net/item/light-pen…
You can read more about this project over at Make:, where there's a step-by-step guide with photos to accompany the video.